Aladdin's Eatery restaurants in Columbus, Ohio are thrilled to participate in 614 Restaurant Week. All four of our Columbus-area Aladdin's restaurants will be participating in the 6-day dining event, where guests are invited to enjoy a 3-course meal for a special price.
The Columbus teams put together an amazingly appetizing special menu for 614 Restaurant Week, with items that will please both first-timers and long-time Aladdin's fans. The special 614 Restaurant Week menu features dishes that fit the dietary preferences and lifestyles of guests, including those who are vegan, gluten-free, and vegetarian. There are also plenty of protein-packed dishes to enjoy.
Aladdin's Eatery 614 Restaurant Week Menu
The 3-course, $20 614 Restaurant Week menu is available for dine-in and carryout at our Grandview, Worthington, Powell, and Clintonville locations. Price excludes tax, gratuity, and beverages.
Appetizers – Pick One!
Small Hummus (VG, GF)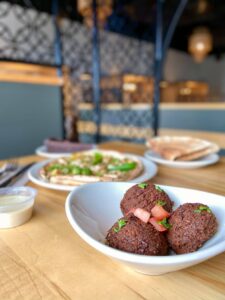 A creamy blend of chickpeas puréed with tahini and lemon juice, drizzled with extra virgin olive oil. Served with a side of Aladdin's hot sauce
Small Tabouli (VG)
A delicate mixture of chopped parsley, sweet onions, diced tomatoes, bulgur, lemon juice, and extra virgin olive oil.
Small Baba Gannouj (VG, GF)
Fire-roasted eggplant puréed with tahini, fresh garlic, and lemon juice, drizzled with extra virgin olive oil. Served with a side of Aladdin's hot sauce.
Small Falafel (VG, GF, N)
Crispy, fried vegan patties made from ground chickpeas, fava beans, onions, and herbs. Served with tomato slices
and tahini lemon dressing.
Entrees – Pick One!
Flavor Savor (N)
Chicken mishwi and beef kafta on a bed of brown rice with vermicelli. Served with greens, hummus, and falafel.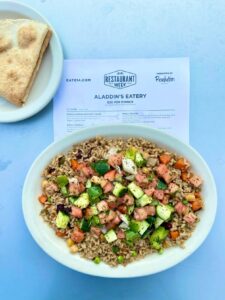 Fattoush Salad (VG)
Chopped spinach and romaine, Lebanese Salata, and pita chips seasoned with za'atar, tossed with lemon juice, garlic, sumac, extra virgin olive oil, and herbs. Optional: add chicken.
Jasmine's Favorite (GF)
A medley of cooked beans, vegetables, and brown rice, seasoned with a blend of herbs and spices. Served with a side of Aladdin's hot sauce or garlic sauce. Topped with a choice of Lebanese Salata (VG, GF) or beef shawarma (GF).
Aladdin's Falafel Rolled Pita (VG, N)
A fresh pita filled with falafel, greens, tomatoes, turnips, pickles, and tahini lemon dressing.
Aladdin's Chicken Pitza
A flat, toasted pita topped with honey dijon dressing and our homemade garlic sauce topped with chopped grilled chicken tenders, green peppers, and diced scallions.
Desserts – Pick One!
Carrot Cake
Diamond Baklava
Flourless Chocolate Torte (GF)
VG – Vegan, GF – Gluten-Free, N-Contains Nuts
Whether you live in the Columbus area or you're in the mood for a road trip, we can't wait to serve you during 614 Restaurant Week (and beyond!)!
To learn more about 614 Restaurant Week and to see other participating restaurants, click here.