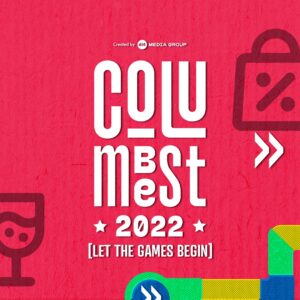 Aladdin's has been nominated for two ColumBEST categories in 614 Magazine. We are so grateful to be recognized in these categories, and could not have done it without you, our amazing guests!
ColumBEST is a reader's poll where residents in and around the capital determine the city's best places, people, and services. Readers are invited to vote on a multitude of categories, including vegetarian restaurants, happy hour spots, and venues that they love, among many others.
The categories in which we've been nominated are the Best Place for a Salad as well as the Best Mediterranean/Middle Eastern Restaurant.
Fun fact: Aladdin's actually won the Best Mediterranean/Middle Eastern Restaurant award in ColumBEST 2020 and 2021!
To vote for Aladdin's in ColumBEST, click here. Voting ends 3/25/22.
Aladdin's in Columbus
We've been calling Columbus home for more than two decades, with our first 614-area restaurant opening in Clintonville in the 90s. We are on our way to opening our fifth Columbus restaurant in New Albany in spring of 2022, and we couldn't be more excited!
Our friends at 614 Magazine featured our newest restaurant earlier this year — thanks for the love, 614!
Aladdin's Salads
As a restaurant that focuses on healthy living, it should be of no surprise that our salads are top notch. From vegetarian to protein-packed, we have options for every palette. Here are just some of our guest favorites!
Cranberry Walnut Salad
Mixed greens, Lebanese salata, calamata olives, and quinoa tossed with our house dressing and topped with feta, dried cranberries, and chopped walnuts.
Taza Chicken Salad
Mixed greens, yellow squash, zucchini, grapes, tomatoes, and chopped grilled chicken tenders tossed with homemade honey dijon dressing and topped with feta, dried cranberries, and lightly fried pine nuts.
Fattoush
Mixed greens, Lebanese salata, and pita chips seasoned with za'atar, tossed with lemon juice, garlic, sumac, extra virgin olive oil, and herbs.
Mujadara Power Salad
Lentils and brown rice over mixed greens, topped with our award-winning hummus and fried onions. Served with our house dressing.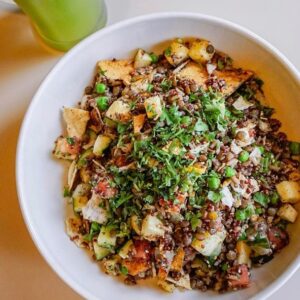 Superfood Salad
Mujadara, Lebanese salata, redquinoa, diced squash & zucchini, peas, za'atar seasoned pita chips, walnuts, cranberries, and special seasoning, tossed in Aladdin's dressing and sprinkled with parsley.
Falafel Salad
Falafel patties over mixed greens, sliced cucumbers, tomatoes, and scallions. Served with our vegan tahini lemon dressing with your choice of feta or cheddar.
Grilled Tuna Salad
Grilled tuna steak, mixed greens, cucumbers, tomatoes, and scallions. Top it with cheddar or feta and your choice of homemade dressing.