With Lent in full swing, we wanted to take a second to remind you of our variety of delicious and healthy meatless options you can enjoy at Aladdin's.
Maybe you're sick of the fish fry scene. Or maybe they're just not your thing. Either way, our extensive menu offers you more than 40 meatless dishes that will leave you full and happy.
Here are some of our favorites!
Meatless options on our menu:
Falafel
Crispy on the outside, soft on the inside. The perfect meatless option for your Fridays and beyond. On a salad, in a rolled pita, by the handful. Your opportunities are endless.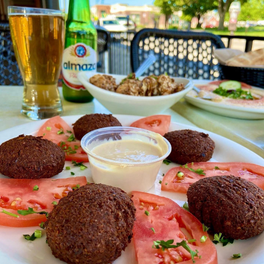 Pita Pitzas
Giving a whole new meaning to pizza Fridays! Pictured here is the Farmers Pitza — garlic + hot sauce, baby spinach, squash, zucchini, mushrooms, tomatoes, peas, banana peppers, and cheddar.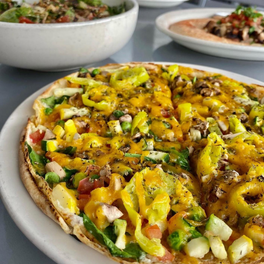 Our pita pitzas are made on a flat toasted pita, and toped with all of your favorites. From vegetarian to protein-packed, there's a pitza for any taste.
Loubie Bzeit
Calling all garlic lovers — this one is for you! Loubie Bzeit is a dish consisting of italian green beans, onions, tomatoes, and garlic. Enjoy it as an appetizer by itself or as an entrée with brown rice & vermicelli.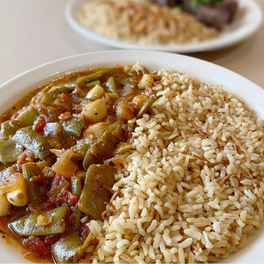 Jasmine's Favorite
A delicious medley of cooked beans, vegetables, and brown rice, seasoned with our secret blend of herbs and spices. Enjoy it as is, or top it with your favorite meatless options like this Lebanese salata!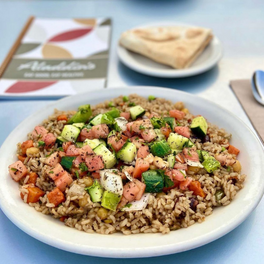 Grilled Tuna
Whether you're limiting your meat intake or trying to add more fish to your diet, you can't go wrong with grilled tuna. Enjoy it in a rolled pita, atop rice as part of Jasmine's Favorite, or with your favorite homemade dressing as a salad.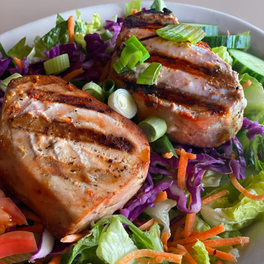 ---
Whether you're a first-time guest or a lifelong fan, you'll have no trouble finding a new meatless favorite at Aladdin's. We also offer a variety of smoothies, raw juices, herbal teas, and desserts, so you'll be able to enjoy your meal from start to finish.