It's time to talk about the vegan diet. Here at Aladdin's, there are many vegan-friendly menu options for guests to choose from, whether it's for health reasons or by choice.
The vegan diet is more than just a meatless eating plan or a "boring diet." In fact, those who follow a vegan lifestyle enjoy some of the most creative meals and snacks, and they certainly aren't missing out when it comes to taste.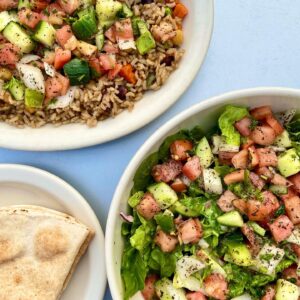 First thing's first: what is veganism?
Simply put, veganism is more than just a diet; it is a way of living. The dictionary defines veganism as the practice of eating only food not derived from animals and typically of avoiding the use of other animal products. This means those who lead a vegan lifestyle avoid meat, eggs, and dairy.
Vegans supplement the nutrients meat, eggs, and dairy provide by focusing on adding more fruits, vegetables, whole grains, legumes, nuts, and seeds to their diets.
Okay, so why do people go vegan?
There are quite a few reasons people decide to follow a vegan diet and lifestyle, ranging from health, to ethics, to environmental concerns.
For example, when it comes to health, the vegan diet assists in weight loss because of the low level of calories consumed. Following the vegan diet helps regulate your blood sugar and keeps your heart healthy, all thanks to the amount of vegetables eaten each day.
In addition, many choose to adopt a vegan lifestyle for ethical and environmental reasons as well. According to the Vegan Society, compassion is a large reason many make the switch. They don't want the food they consume to come from any animal.
What can vegans eat?
While the stereotype makes people think that all vegans can consume is lettuce and water, that is extremely far from the truth.
When following a vegan diet, anything that comes from a plant is fair game. A quick list of vegan-friendly staples include:
Fruits
Vegetables
Peas
Beans
Lentils
Nuts
Rice
Pasta
Soymilk
Almond Milk
Vegetable oils
All of those items are what's typically included on a grocery list, and there are so many different meals and snacks you can cook using those ingredients. Anything from hummus (hey!) to trail mix can make a great snack, and meals like chickpea pancakes or vegetable sushi rolls can be as creative as they are delicious.
Aladdin's vegan menu items
Our menu at Aladdin's is filled with vegan-friendly meals that are healthy, flavorful, and filling. We even offer vegan dessert options (subject to availability) because no one should be denied their sweets!
Not only are our vegan options great for those following the lifestyle, but they serve as great meal examples for the vegan-curious.
The best part? Many of our vegan options are enjoyed by vegans, vegetarians, and meat-lovers alike. Here are some examples of vegan-friendly menu items at Aladdin's: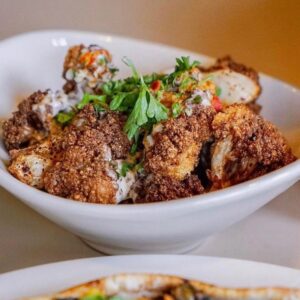 Hummus. Ah yea, our famous hummus. A creamy blend of chickpeas puréed with tahini and lemon juice, drizzled with extra virgin olive oil.
Tabouli. Tabouli is another appetizer that guests enjoy by the spoonful or with our fresh homemade pita bread. It's a mixture of chopped parsley, sweet onions, diced tomatoes, bulgur, lemon juice, extra virgin olive oil, and fine herbs.
Falafel. Mmm, falafel. Crispy, tender, delicious. They're vegan patties made with ground chickpeas, fava beans, onions, and herbs. The appetizer version of our falafel comes with tomatoes and our new tahini lemon dressing, but falafel is certainly a menu staple at Aladdin's. You can enjoy falafel on a salad, in a rolled pita sandwich, or even on a pitza!
Loubie Bzeit. Calling all garlic lovers! This dish is for you. Italian green beans sautéed with onions, whole cloves of garlic, fresh tomatoes, and extra virgin olive oil. Anyone need a breath mint?
Baba Gannouj. Or as we like to call it, hummus' partner in crime. Baba is a creamy mixture of puréed fire-roasted eggplant, tahini, fresh garlic, and lemon juice, topped with a drizzle of extra virgin olive oil. Like hummus, this is best enjoyed with fresh pita or veggies.
Farrouk's Falafel Pitza. As we mentioned above, our vegan falafel can be enjoyed in a myriad of ways, one of which is on a pitza. Pitzas from Aladdin's are basically pizzas made with our fresh homemade pita bread. We toast the pita bread used for these menu items, and it creates a delicious guilt-free crust that gets topped with healthy veggies, herbs, and dressings. Farrouk's pitza is topped with tahini lemon dressing, chopped pieces of falafel, banana peppers, diced tomatoes, and parsley. Y-U-M!
Hummus Tabouli Garden Rolled. One of our menu vegetarian rolled pita options, this vegan option is absolutely filled to the brim with flavor. It's the fresh homemade pita you know and love, wrapped up around hummus, tabouli, greens, and tomatoes. Some other vegan rolled pita options include the Hummus Falafel Rolled, Aladdin's Falafel Rolled, Hummus Garden Rolled, Baba Falafel Rolled, Baba Garden Rolled, and, last but certainly not least, our new Cauliflower Rolled. Which leads us to our next vegan favorite…
Spicy Cauliflower. A.K.A. your new favorite snack. One of our most loved appetizers, these cauliflower florets are lightly fried, topped with tahini lemon dressing and our beloved hot sauce, and sprinkled with our special seasoning and parsley. The spicy cauliflower is only available as an app; the cauliflower rolled pita we mentioned above is the same florets minus the hot sauce. If you want the best of both worlds, ask for a side of hot sauce with your cauliflower rolled pita and get ready to have your mind blown.
All the soups. Year-round, Aladdin's offers four delicious, hot, fresh, and vegan soups. There's our Vegetarian Chili, our Lentil Soup, and the amazing combo called Len-Chili. If you're looking for more veggies in your soup, our V-Nine is packed full of 'em; nine to be exact! Carrots, celery, tomatoes, zucchini, squash, potatoes, green peppers, onions, and sweet peas.
Ready to find your new favorite vegan meal? Visit us today or order online from an Aladdin's near you and enjoy!