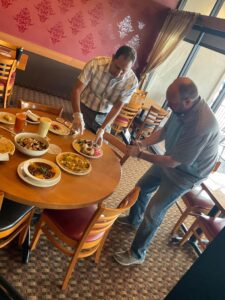 Today we spent the morning with Brian of NE Ohio Eats as part of a feature on Aladdin's. Brian sat down with Markus, the General Manager at our Fairlawn, Ohio restaurant to talk about our company's history, inspiration, and, of course, menu.
Markus and the Fairlawn team prepared a delicious spread of Aladdin's favorites including the new Genie's Combo, Farmer's Pitza, and so much more. The interview gave us the opportunity to highlight some of our vegetarian, vegan, and gluten-free menu items, all while discussing the healthy Mediterranean cuisine that we offer.
Also highlighted were our fresh fruit smoothies and our raw juices. The team prepared a tropical storm smoothie and some carrot apple juice for the video.
Click here to watch Aladdin's on NE Ohio Eats.
This year, Aladdin's Fairlawn is celebrating their 10th year serving the community. As Markus says in the video, we truly love our guests and being a part of such a great place. Fairlawn Aladdin's is located in Ohio's Summit County, near Summit Mall and Montrose.