Here at Aladdin's, we pride ourselves on our vast menu that's filled with options for everyone — and we mean everyone! From vegan to vegetarian, gluten-free to certain allergies, we have options for every palate and dietary preference. In honor of World Vegan Day on November 1st, we're excited to talk about the more than 30 vegan options we offer.
What's World Vegan Day?
First thing's first: what is World Vegan Day anyway? It feels like there's a holiday for everything these days — not that we're complaining. From National Baklava Day (save the date, 11/19!) to International Hummus Day, there's always a reason to celebrate.
As with all holidays, there's a historic reason as to why we celebrate when we do. The vegan lifestyle was coined back in 1944 when this specific lifestyle and diet needed a name. Fast forward 50 years later, this huge milestone anniversary was coming up and The Vegan Society decided they wanted to honor it properly. Thus, the holiday was created.
It's a day where vegans celebrate not only the lifestyle but the benefits that come along with living as such. The holiday kicks off World Vegan Month, a whole 30 days dedicated to veganism.
Want to hear something crazy? The holiday itself was established in 1994 — pretty ironic as that's the year we opened our first Aladdin's in Lakewood, Ohio. Coincidence? Maybe. Fate? You bet.
What does it mean to be vegan?
The vegan diet is more than just a meatless eating plan or "just another diet." In fact, those who follow a vegan lifestyle enjoy some of the most creative meals and snacks, and they certainly aren't missing out when it comes to taste.
The dictionary defines veganism as the practice of eating only food not derived from animals and typically of avoiding the use of other animal products. This means those who lead a vegan lifestyle avoid meat, eggs, and dairy.
Vegans supplement the nutrients meat, eggs, and dairy provide by focusing on adding more fruits, vegetables, whole grains, legumes, nuts, and seeds to their diets.
What are the benefits of being vegan?
There are quite a few reasons people decide to follow a vegan diet and lifestyle, ranging from health, to ethics, to environmental concerns.
For example, when it comes to health, the vegan diet assists in weight loss because of the low level of calories consumed. Following the vegan diet helps regulate your blood sugar and keeps your heart healthy, all thanks to the amount of vegetables eaten each day.
In addition, many choose to adopt a vegan lifestyle for ethical and environmental reasons as well. According to the Vegan Society, compassion is a large reason many make the switch. They don't want the food they consume to come from any animal.
How to celebrate World Vegan Day
There are many ways to celebrate World Vegan Day — on November 1st and beyond! Here are a few of our favorite ideas:
Share a meal with a loved one at Aladdin's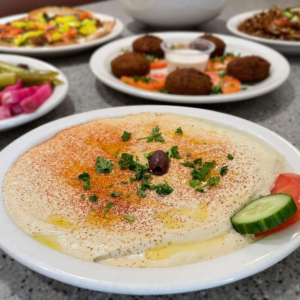 Okay, so we may be a bit biased, but we have more than 30 vegan dishes on our menu, so it's no surprise that we want you to celebrate with us!
One of our most popular sharable vegan dishes is our hummus! It's a creamy blend of chickpeas puréed with tahini and lemon juice, drizzled with extra virgin olive oil. It's perfect for sharing with a loved one but, don't worry, you can totally keep it all to yourself — we won't tell. Our fresh veggies pair perfectly with hummus, too. The plate comes with carrots, celery, cucumbers, tomatoes, olives, turnips, and pickled cucumbers — all perfect for dipping!
Get Aladdin's for carryout and enjoy it at your favorite spot
You saw this coming, didn't you? You can call ahead or order online from your local Aladdin's and your vegan meal will be ready for you upon your arrival.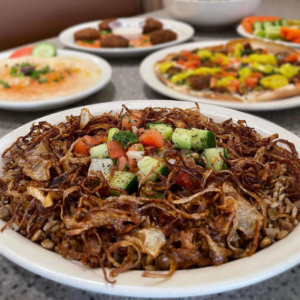 Our suggestion is our mujadara plate. It consists of lentils and brown rice topped with Lebanese salata and fried onions. All you need is a fork and you can enjoy this vegan dish anywhere!
Have your favorite vegan dish delivered to your door
… and enjoy it from your couch while binge-watching your newest obsession! That's right, you can find Aladdin's on DoorDash and order something vegan for delivery.
It's been said that our Farrouk's Falafel Pitza pairs perfectly well with a cozy night in at home. Whether you're watching Love Island or Criminal Minds, this meal is certainly a suggested go-to. Farrouk's consists of a flat, toasted pita topped with tahini lemon dressing, falafel, banana peppers, diced tomatoes, and chopped parsley.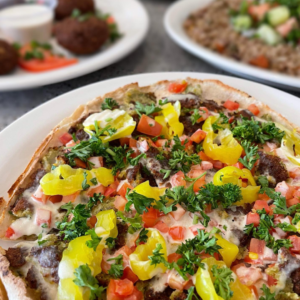 What other ways will you celebrate World Vegan Day?
Vegan dishes at Aladdin's
As we said above, we have more than 30 vegan options at Aladdin's. Here is a list of some of them, but we encourage you to explore our menu and find your favorite!
Hummus // a creamy blend of chickpeas puréed with tahini and lemon juice, drizzled with extra virgin olive oil
Tabouli // a delicate mixture of chopped parsley, sweet onions, diced tomatoes, bulgur, lemon juice, extra virgin olive oil
Baba Gannouj // fire-roasted eggplant puréed with tahini, fresh garlic, and lemon juice, drizzled with extra virgin olive oil
Loubie Bzeit // italian green beans sautéed with onions, whole cloves of garlic, fresh tomatoes, and extra virgin olive oil
Chili // red kidney beans, fresh vegetables, and tomatoes; mildly spicy
V-Nine Soup // homemade with carrots, celery, tomatoes, zucchini, yellow squash, potatoes, green peppers, onions, and sweet peas
Aladdin's Falafel Rolled Pita // falafel, greens, tomatoes, turnips, pickles, and tahini lemon dressing
Tahini Lemon Dressing // traditional tangy dressing made with tahini and lemon juice
Aladdin's "House" Dressing // our signature dressing made with lemon juice, fresh garlic, and our special blend of oils, herbs, and spices
Fattoush Salad // mixed greens, lebanese salata and pita chips seasoned with za'atar, tossed with lemon juice, garlic, sumac, extra virgin olive oil, and herbs
Superfood Salad // mujadara, lebanese salata, red quinoa, diced squash and zucchini, peas, seasoned pita chips, walnuts, cranberries, and special seasoning tossed in Aladdin's dressing and sprinkled with parsley
---
Ready to find your new favorite vegan meal? Visit us today or order online from an Aladdin's near you and enjoy!