Last week, we hosted Doug Trattner and his team from WKYC-3 Cleveland at Jasmine Bakery, most popularly known as the place where Aladdin's pita bread is freshly made.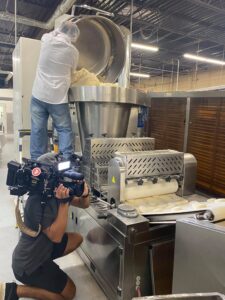 The bakery, located off of West 117th Street in Cleveland, Ohio, was founded in 1997 by our very own Fady Chamoun. It began as a facility used to deliver fresh ingredients and bread to our restaurants, ensuring that our recipes were made with the products that fit our high standards.
Over the years, Jasmine Bakery has grown both its facility and production process. The spot WKYC visited last week, as seen below, is a 50,000-square foot warehouse with state-of-the-art production lines. We're still making and distributing the fresh pita bread guests know and love, but it can be found in places other than only Aladdin's restaurants. In recent years, we opened a storefront at Jasmine Bakery, giving guests the opportunity to purchase their Lebanese favorites including za'atar, pita bread, and more.
Watch the video at the link below to learn more about Jasmine Bakery and the history of Aladdin's food as you know it today.
CLICK TO WATCH: A look at Jasmine Bakery, the place where Aladdin's Eatery's pita bread is made | Doug Trattner reports
Jasmine Bakery is located at 12117 Berea Road in Cleveland, Ohio and the storefront is open to the public at the following times:
• Monday to Friday: 8am-3pm
• Saturday: 9am-1pm
• Sunday: Closed