The holidays are back in full-swing and we are more excited than ever to announce that our favorite tradition has returned — Holiday Bonus Cards are back for the 2022 holiday season! Beginning Friday, November 25th, for every $50 of Aladdin's gift cards you purchase, you'll receive a free $10 Holiday Bonus Card — on us!
What Are Holiday Bonus Cards?
Well, it's simple! It's our way of saying THANK YOU for an amazing year. We are so grateful for each and every one of you and this is our way of showing it.
How Do I Get One?
In order to receive a free $10 Holiday Bonus Card, all you have to do is purchase $50 in Aladdin's gift cards. It's that easy!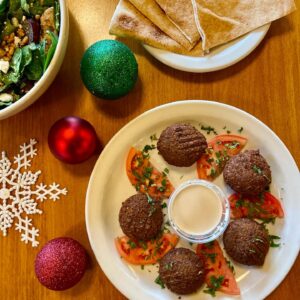 We see it like this…
You're already out shopping for the folks on your list, right? Pop in and purchase a gift card for them, and receive something special for yourself.
Have a colleague who gets a Superfood Salad every Thursday? Or a bestie who wants to split a Vegetarian Combo once a month? Or maybe mom hints that she wants you to take her to dinner whenever you talk on the phone? Well, a gift card sounds like the perfect gift idea for all of the people mentioned above.
The Fine Print
Bonus card promotion begins in restaurants on Friday, November 25, 2022. Receive a free $10 Holiday Bonus Card for every $50 spent on gift cards. Bonus Cards are valid through February 28, 2023 and are not redeemable for cash or gift card. Promotion is available in-restaurant only while supplies last.