Aladdin's has won the Best Middle Eastern Restaurant in Scene's "Best of Cleveland" campaign and we are both thrilled and humbled.
Each year, Cleveland Scene, a local print and digital magazine, hosts a campaign where readers and residents alike nominate and vote on the things that make the city such a great place to live or visit. Categories range everywhere from best bagel to best Instagram account, best wedding venue to best apartment complex. This annual campaign is a great way to really learn about the city in which we call home, and we're honored to have been nominated along with so many Cleveland greats.
In 2021, Aladdin's was nominated for Best Middle Eastern Restaurant in Cleveland as well as Best Local Chain. The restaurants nominated in the categories with us are amazing and we are so grateful we're among them.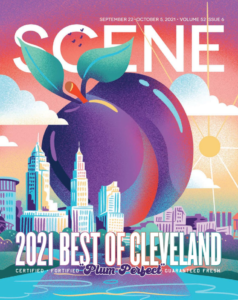 We came in third place for best local chain, again, being named along restaurants Clevelanders know and love.
If you're not from Cleveland, or maybe you're a new Aladdin's fan, you may be wondering why we were nominated for best local chain. Well, it's because this is where we started!
About fifteen minutes west of Downtown Cleveland is a suburb called Lakewood. It's home to restaurants, bars, shops, homes, parks, businesses, and pretty much anything else you could think of. It's a beautiful neighborhood to live, visit, work, or play, and, trust us, we should know. We've been here for nearly 30 years!
In 1994, the first Aladdin's was opened in Lakewood. In fact, it's still here today! Our restaurants have grown over the past decades, and now we have many great neighborhoods to call home. Find an Aladdin's close to you or your favorite cities here.
To read all of Scene's Best of Cleveland names, places, and restaurants, click here. Congratulations to all who made this extensive list — we are honored to be right up there with you!
Last but certainly not least, we'd like to send a big THANK YOU to all who voted for us and helped us earn the title of best Middle Eastern restaurant in Cleveland.